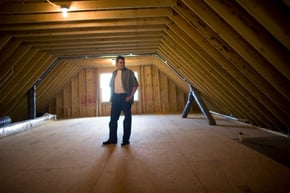 Though the Federal Housing Administration (FHA) has always had specific procedures for appraisers when it comes to inspecting attics, the government agency hasn't technically provided a real definition for this type of space within its documentation.
This lack of a definition has led many appraisers to assume that an attic includes any space above the ceiling and below the roof inside of a structure. However, in more modern designer homes, such spaces typically don't have any flooring – leading to even more confusion amongst appraisers working on FHA orders.
After a recent inquiry from an appraiser in Washington, the FHA provided the following information from the Appraiser and Property Requirements section of its new handbook:
FHA attic observation requirements did not change when the 4000.1 handbook became effective on September 14, 2015. The FHA still requires that the appraiser observe the attic for evidence of needed repairs and non-compliance with FHA property eligibility requirements. If the appraiser cannot observe the attic, a head and shoulders observation—along with an explanation from the appraiser as to why the entire attic could not be observed—is sufficient.
If the attic doesn't have a floor for the appraiser to stand and walk on, and they believe that it would be both dangerous for themselves and possibly damaging to the home to conduct a normal inspection, the appraiser may perform a head and shoulders observation and explain to the lender the circumstances and scope of work.
The scope of work performed must always be explained by the appraiser, and needs to include photos of the attic or crawl spaces. If the attic or crawl spaces are not readily accessible, appraisers must take photos showing what was observed relative to where those areas are located. They must also include an explanation as to why a required inspection of an inaccessible space was not completed.
It's important to note that appraisers are not required to move anything—with the exception of simple covers—to access these areas.
Sources:
AppraiserBlogs – appraiserblogs.com
Valuation Review – valuationreview.com
FHA – portal.hud.gov