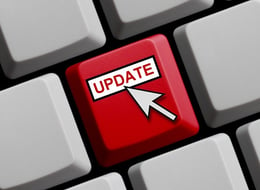 On Saturday, November 14th, Fannie Mae will implement an update to its Quality Assurance System's (QAS) document submission process, which is designed to simplify post-purchase file submission and reviews by improving tracking and efficiency to help minimize the review cycle time.
This update is in direct relation to another Fannie Mae update that is being made to its Loan Quality Center (LQC), which will see an updated approach to requesting missing or defective documents from lenders in connection with post-purchase loan file reviews. The document requests will now be specific as to whether the document is being requested because it was missing or because it was defective.
To support this updated LQC approach, the words "Missing" or "Defective" will be added to the document type names in the QAS. Lenders will be asked to respond to the missing or defective document requests by selecting the same document type that was requested by Fannie Mae from the Upload Document drop-down list.
In its release notification, Fannie provided the following example:
If Fannie Mae's document request to a lender states "Appraisal Defective", then the lender must select "Appraisal Defective" from the Upload Document drop-down list when submitting the document.
To see the full list of revised document types that will appear in the Upload Document drop-down list after the QAS update is implemented, click here.
Source:
Fannie Mae – fanniemae.com