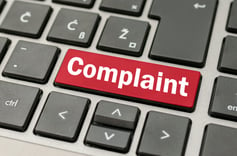 The Consumer Financial Protection Bureau (CFPB) recently announced that it still plans to give consumers the chance to "opt-in" and share their complaint narratives on the agency's public-facing consumer complaint database starting in June, which many financial institutions are not pleased with.
When the CFPB first proposed this idea last summer, numerous banks and industry groups submitted the following arguments against public compliant posting: the content of the complaints will be unverified; complaints will describe only negative customer experiences; and institutions won't be able to tell their side of the story, because they are required to protect their customers' privacy.
To further prove their last argument, the CFPB's policy does acknowledge that privacy requirements will indeed prevent companies from providing narratives that meaningfully respond to the customers' complaints. As a solution, the CFPB will provide a set list of company responses that address the substance of the consumers' complaints, and will allow financial institutions to recommend additional responses as needed.
Though consumer complaint narratives have been available online on rogue websites for several years now, industry participants are concerned that the complaints posted to the CFPB's website will garner more weight, because they will appear to have the approval of the government.
To help avoid the negative image that could potentially come from these public complaint narratives, STRATMOR's MortgageSAT program suggests that lenders quickly reach out to upset customers and efficiently resolve their problems whenever possible.
Sources:
Financial Regulatory Report – financialregulatoryreport.com
Inside Mortgage Finance – insidemortgagefinance.com
National Mortgage News – nationalmortgagenews.com
Stratmor Group – stratmorgroup.com