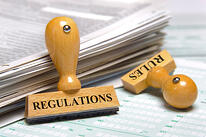 Several states are currently working on passing appraiser-related mandates to help improve their overall appraisal processes. Connecticut, Missouri, and Kansas have all introduced bills to their respective legislatures, while Virginia's House and Senate have officially passed a new bill that's currently awaiting the governor's signature.
Virginia – S.B. 1445:
Virginia's State Senate and House of Representatives have officially passed S.B. 1445, which requires all appraisal management companies (AMC) operating within the state to pay appraisers in accordance with the Truth in Lending Act (TILA) and its associated regulations. The new bill was originally introduced by Senator Stephen Martin back on January 23rd, and has been sent to Governor Terry McAuliffe. For more information or to see the bill in its entirety, click here.
Connecticut – H.B. 6162:
Representative James Albis recently introduced H.B. 6162 within Connecticut's House of Representatives, which would eliminate a mandate that requires the state's appraisers to take photographs of comparable properties when the properties in question are in a dangerous neighborhood or have become blighted. For more information or to see the bill in its entirety, click here.
Missouri – S.B. 95:
Sponsored by Senator Paul LeVota, S.B. 95 would make appraiser licensee and applicant information that's currently considered confidential more easily accessible under the banner of Missouri's Division of Professional Registration. This information, which includes education transcripts, test scores, complaints, and investigative reports, could be obtained whenever it is requested by either a member of the general assembly or one of their employees.
In addition, S.B. 95 would also change Missouri's current requirements for those serving as the executive director of a board or commission under the Division of Professional Registration. These individuals would only be able to serve as executive director of one board or commission at a time, unless the total combined number of licensees under their board or commission's authority is 2,000 or less. For more information or to see the bill in its entirety, click here.
Kansas – S.B. 178:
Introduced in the State Senate last month, S.B. 178 would alter how agricultural land in Kansas is to be appraised going forward. In particular, the new bill states that appraisals must be established for "each parcel of land devoted to agricultural use upon the basis of the agricultural income or productivity based on cash rental rates typically received by the landlord from such land". S.B. 178 would also require the productivity of agricultural land to be determined over a five year average (currently set at 8 years) "immediately preceding the current calendar year which immediately precedes the year of valuation". For more information or to see the bill in its entirety, click here.
Sources:
Virginia State Legislature – lis.virginia.gov
Connecticut State Legislature – cga.ct.gov
Missouri State Legislature – senate.mo.gov
Kansas State Legislature – kslegislature.org
Valuation Review – valuationreview.com
LegiScan – legiscan.com