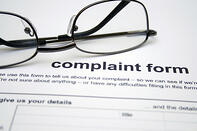 According to the most recent study by Inside the CFPB, the total number of mortgage-related complaints filed by borrowers with the Consumer Financial Protection Bureau (CFPB) fell by 16.1% in the 4th quarter of 2014 – making this the 6th drop-off in the last 7 quarters.
Thanks to this continued drop-off, the overall amount of mortgage-related complaints fell by 14.5% year-over-year from 2013 to 2014, with complaints about loan applications and the origination process dropping even further at 22.8%.
While this decline in complaints looks positive on the surface, Inside the CFPB warns that these significant drop-offs may be indicative of larger trouble elsewhere – such as the current slowdown in lending. Of course, this slow down won't last forever, and the online publication points out that as lending regains momentum, so might the number of complaints.
In addition, the analysis also showed a sharp decline in consumer complaints regarding loan modifications, which dropped 27.4% year-over-year from 2013 to 2014. It has been surmised that this drop-off is due to the continued stabilization of the broader U.S. economy, as well as the improvement in housing prices.
Sources:
Inside the CFPB – http://bit.ly/1wYLNkc
Inside Mortgage Finance – insidemortgagefinance.com