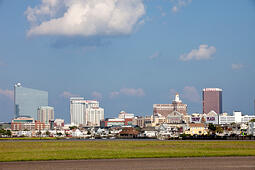 From March 8th through the 12th, Global DMS will be attending the 32nd Annual Regional Conference of MBA's at the Borgata Hotel & Casino in Atlantic City, New Jersey, where we will be exhibiting our flagship product eTrac® in booth #520.
This year's conference will present many opportunities for the entire mortgage community, both residential and commercial, and will feature a large exhibitor lineup, top industry speakers, and unique social events for networking purposes.
To view the conference's official webpage, click here.
Global DMS Involvement:
Global DMS' CEO, Vladimir Bien-Aime, CRO, Matt McHale, and Sales Manager, Chris Palermo, will be in attendance for the duration of the conference, and are excited by the opportunity to both meet and reconnect with the many renowned mortgage industry professionals that will be present.
If you're also planning to attend, be sure to check in with these gentlemen at our booth (#520) on Wednesday, March 11th to learn more about our company and its various products.
About Global DMS:
Founded in 1999, Global DMS is a leading provider of both residential and commercial real estate appraisal management technology that's catered towards lenders, AMCs, appraisers, and other real estate entities. Our all in one collateral management system known as eTrac promotes compliance, improves workflow, and is completely cost-effective thanks to its cloud-based design.
For the latest company updates, follow us on Facebook, Twitter, and LinkedIn.