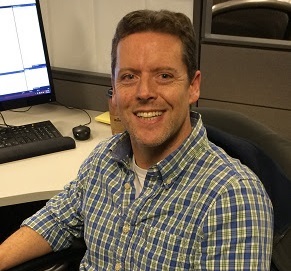 Several weeks ago, Global DMS continued to add to its Development Department by hiring a new Senior Software Developer, Mike Broiles. Equipped with an impressive resume and extensive software knowledge, Mike began his tenure with the company on December 1st, and is already hard at work developing and configuring code.
As the new Senior Software Developer, Mike is primarily responsible for developing and maintaining some of Global DMS' newest software systems and next generation of products. He is currently concentrating on the company's newest web-based applications, and works in conjunction with the entire Development Team to help produce best-of-breed solutions for Global DMS' client base.
Prior to joining the Development Team at Global DMS, Mike worked for Epicor Software Corporation for the past 16 years (1998-2014), where he held numerous positions within the company. He began as an Applications Programmer within Epicor's ERP Acclaim Division in 1998, and was then promoted to Software Engineer within the same division in 2001.
After spending 4 years as a Software Engineer ('01-'05), Mike was promoted to Development Engineer of Epicor's E. Commerce Division in 2005. His final promotion came in 2010, when he became the Senior Development Engineer/Team Lead of the E. Commerce Division – in which he enhanced and maintained Epicor's ERP E. Commerce solution known as B2BSeller using Scrum/Agile development methodologies.
Mike attended the University of Delaware, where here earned a Bachelor of Science degree in Computer and Information Sciences in 1998. He also earned the following minors: Mathematics, Biology, and Psychology.