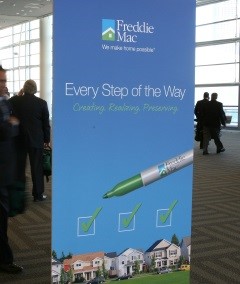 In its November U.S. Economic and Housing Market Outlook, Freddie Mac predicted both an improved U.S. housing market and a 3% growth rate for the U.S. economy in 2015. If the economy prediction proves true, it would be only the second year in the past decade with a growth rate at that pace or better.
To help legitimize its housing market prediction, Freddie gave the following "Outlook Highlights":
Interest rates are forecasted to climb throughout 2015, averaging about 2.9% for 10-year Treasuries and 4.6% for 30-year fixed rate mortgages.
The annual pace of house price appreciation is estimated to slow from 9.3% in 2013, to 4.5% in 2014, to 3% in 2015.
Total housing starts are projected to increase by nearly 20% in 2015. In addition, total home sales are also projected to increase in 2015 by 5%.
Single-family mortgage originations are expected to keep falling—as they have since 2012—decreasing an additional 8% in 2015. However, rising home values and increasing purchase originations should finally offset the decline in refinance volume and drive originations higher.
Multifamily mortgage originations have risen about 60% since 2011, and a further increase in volume of about 14% is anticipated for 2015.
According to Frank Nothaft, Freddie Mac's Vice President and Chief Economist, the positive news is based on several key factors:
Governmental fiscal drag has turned into fiscal stimulus.
Lower energy costs support consumer spending and business investment.
Further easing of credit conditions for business and real estate lending support commerce and development.
More upbeat consumer and business confidence.
Only time will tell if Freddie's 2015 predictions prove accurate, but for the record, the Government Sponsored Enterprise wasn't too far off with its 2014 predictions a year ago.
Sources:
Freddie Mac – freddiemac.com
MortgageOrb – mortgageorb.com
HousingWire – housingwire.com