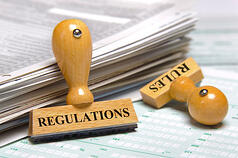 This past fall, 6 federal regulators officially approved the final version of the Qualified Residential Mortgage (QRM) rule, which will require lenders to retain a 5% stake in mortgage loans that are sold to investors. The new rule is designed to determine which loans are exempt from the Dodd-Frank Act's risk retention requirements to help prevent the kinds of risky credit practices that fueled the financial crisis back in 2008.
As expected, the final QRM rule has been closely aligned with the Qualified Mortgages (QM) rule, which defines how lenders determine a borrower's ability to repay a loan. The QM rule also provides a safe harbor for lenders as they make that determination and underwrite loans.
The final version of the new QRM rule defines a QRM as a "covered transaction" that meets the general definition of a QM, which provides that the loan must have:
Regular periodic payments, which are substantially equal;
No negative amortization, interest only, or balloon features;
A maximum loan term of 30 years;
Total points and fees that do not exceed 3% of the total loan amount, or the applicable amounts specified for small loans up to $100,000;
Payments underwritten using the maximum interest rate that applies during the first five years after the date on which the first regular periodic payment is due;
Consideration and verification of the consumer's income and assets, including employment status if relied upon, current debt obligations, mortgage-related obligations, alimony, and child support;
Total DTI ratio that doesn't exceed 43%.
The final QRM rule doesn't incorporate any LTV ratio requirements or standards relating to a borrower's credit history, as previously proposed, and all loans that are guaranteed by either Fannie Mae or Freddie Mac will automatically by exempt from Dodd-Frank's risk retention requirements as long as they remain in conservatorship.
The new QRM rule will officially go into effect during the fall of 2015. After the first four years, the 6 federal regulators (which include the U.S. Treasury, HUD, FDIC, SEC, FHFA, and the Federal Reserve) will review its impact on the housing market and continue this review every five years after that.
Sources:
Mortgage News Daily – mortgagenewsdaily.com
MortgageOrb – mortgageorb.com
The Columbia Institute – columbiainstitute.org