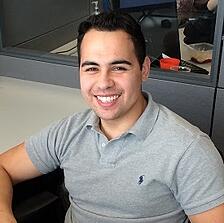 Last month, Global DMS added to its Development Department by hiring a new software developer, German Reyes. German began his tenure with the Global DMS on October 27th, and is excited by the opportunities that lay in front of him as he begins his new journey with the company.
As the new software developer, German will be responsible for developing and maintaining some of the Global DMS' newest software systems and next generation of products. He will primarily concentrate on the company's newest web-based applications, and will work in conjunction with the development team to produce best-of-breed solutions for Global DMS' ever-expanding client-base.
Prior to joining Global DMS, German worked for HIM ON CALL from June 2009 until January 2012, where he started as a Programmer before being promoted to Lead Developer. He then moved on to Sungard Public Sector from January 2012 to August 2013, where he filled the Programmer II position. German's final stop before Global DMS was at JetPay Payroll Services, where he worked as a Programmer/Analyst III from August 2013 to October 2014.
German earned his Bachelor's Degree in Computer Science and Information Technology (CSIT) from DeSales University back in 2010.