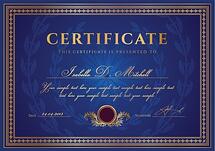 The Appraisal Institute—the global association of real estate appraisers—officially formed a new certification organization earlier this year called the International Center for Valuation Certification (ICVC). The primary goals of this new not-for-profit certification organization are to establish a future generation of cross-disciplinary valuation professionals and to enhance their marketability in a competitive job environment.
Part of their 3 major strategic initiatives announced back in October of 2013, the Appraisal Institute's new ICVC will issue cross-discipline valuation certifications to individuals that meet select criteria. It will also address current market needs and opportunities to help both advance valuation professionals and to better serve the public and clients.
The ICVC will demonstrate leadership in cross-disciplinary valuation principals, standards, methods, and ethics, and is seeking to be recognized as the foremost organization for cross-disciplinary valuation professionals in the United States and around the world to all those who wish to enter, continue, and advance in a valuation profession.
The first board directors of the new ICVC are as follows:
Richard Borges
Charles Cowart
Jeffery Enright
James Murrett
Misty Ray
Faith Roland
Sara Stephens
Sources:
Appraisal Institute – appraisalinstitute.org
National Mortgage Professional – nationalmortgageprofessional.com
Valuation Review – valuationreview.com
Appraisal Buzz – appraisalbuzz.com