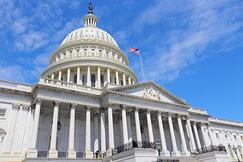 The Johnson-Crapo bill—which is designed to bring housing reform to the United States—officially passed within the Senate Banking Committee by a vote of 13-9, but will likely never make it to the Senate floor due to weak support from both Republicans and Democrats. Sponsored by Senators Tim Johnson (D-SD) and Mike Crapo (R-ID), the Johnson-Crapo measure was built off an earlier proposal that was introduced last year by Senators Bob Corker (R-TN) and Mike Warner (D-VA).
Even though the bill cleared the committee with 13 votes, an affirmative vote of at least 16 was seen as the necessary benchmark to get Senate Majority Leader Harry Reid (D-NV) to act on the measure within the year's shrinking legislative calendar. Senator Reid will now decide on whether to forward the bill to the chamber floor for a full vote, which again seems unlikely due to its weak support – especially from key democrats, including Senator Elizabeth Warren (D-MA).
Those that voted against the bill have expressed concern that it doesn't do enough to free up mortgage credit for lower-income borrowers. They also fear that any finance reform might take the remaining steam out of the housing recovery, which has been slowing down slightly in recent months.
Some Senators are now even considering preserving Fannie Mae and Freddie Mac due to these concerns, as well as the fact that there has been no overwhelming support for any of the proposed housing finance reform bills that have been introduced to the Senate over the past few years.
At any rate, industry trade group officials anticipate that no meaningful progress will be made on housing and GSE reform legislation until 2017 – when a new president and congress are elected.
To see an overview of the Johnson-Crapo bill, please click here.
Sources:
MortgageOrb – mortgageorb.com
Inside Mortgage Finance – insidemortgagefinance.com
Senate Banking Committee – banking.senate.gov