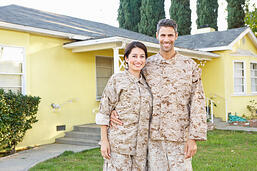 The Department of Veterans Affairs (VA) recently indicated that it would like to bolster its current services that help both active and former military members attain homeownership, and part of this initiative will focus on increasing its pool of appraisers to help expedite the home-buying process.
The VA Home Loan Guaranty program has already guaranteed more than 20-million mortgages to veterans, according to the National Association of Realtors, with a total loan volume of over 1-trillion dollars. With that being said, the VA still wants to do more to streamline the loan process to help additional applicants avoid any unnecessary delays.
With demand for this program now increasing, the VA is facing a shortage of appraisers on their legally mandated appraiser panel – which is slowing down the home-buying experience for new applicants. To help combat this dilemma, the VA is looking to build up its pool of appraisers so that transactions won't continue to be held up over scheduling delays.
The VA has urged realtors to encourage quality appraisers to apply to join its panel, and those that are interested can learn more about the qualification requirements on the department's website.
According to the VA website, "Fee appraiser panels are maintained by the Construction and Valuation sections (C&V) at the various VA Regional Loan Centers (RLC), which have different jurisdictions over the areas in which the appraisals are performed. Inquiries about joining a panel should be made to the C&V's at the appropriate RLC's."
Sources:
Valuation Review – valuationreview.com
National Association of Realtors – realtor.org
The Department of Veterans Affairs – va.gov