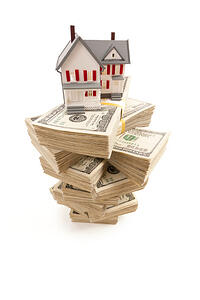 Representative Maxine Waters (D-CA)—the ranking Democratic member of the House Financial Services Committee—has introduced yet another proposal to Congress regarding housing finance reform. Known as the Housing Opportunities Move the Economy (HOME) Forward Act, Waters' proposed bill is similar to the 3 that came before it in that it would eliminate the Government Sponsored Enterprises (GSEs) within a 5-year period.
Unlike the 3 other proposals though, Ms. Waters' bill calls for replacing Fannie Mae and Freddie Mac with a cooperative of lenders known as the Mortgage Securities Cooperative or MSC. The new MSC would be the sole issuer of mortgage-backed securities guaranteed by the government, and would require private backers to take the first 5% loss before the government guarantee kicks in. This would make mortgage lending systems more like a public utility, which differs significantly from the previous proposals that would allow banks and bond guarantors to participate independently in the market.
Waters' proposal would establish a new regulator to oversee this new cooperative called the National Mortgage Finance Administration (NMFA), and would also set minimum down payments at 3.5% for first-time buyers and 5% for all other borrowers. In certain situations, the new NMFA would have the authority to lower these down payment requirements at its discretion.
HOME Forward Act Overview:
Maintain the affordable 30-year fixed rate mortgage by providing for a catastrophic government guarantee on eligible single-family mortgages.
Protect taxpayers from the costs of a housing downturn by establishing a strong new regulator known as the NMFA, which will oversee the new lender-owned MSC.
Ensure that small and community financial institutions can participate in the new system by providing a strong representation of these said institutions in terms of governance of the MSC, and by providing a "cash window" to which small institutions can sell individual mortgages.
Provide stability and liquidity in our housing finance system by having the NMFA set up prudent underwriting standards, adequate capital levels for the MSC, and first-loss credit risk sharing on mortgages.
Prevent disruptions to the U.S. housing market during the transition to the new finance system by providing a 5-year transition period in to the new system. It will also create a framework to simultaneously build-up the MSC while winding-down Fannie Mae and Freddie Mac.
Provide transparency and standardization across the market through uniform pooling and servicing agreements, as well as with new databases to facilitate access to mortgage data.
Maintain access for all qualified borrowers that can sustain homeownership, as well as serve homeowners of the future by providing for strong underwriting standards – which also provide flexibility on down payments for first-time homebuyers.
Maintain the multifamily housing market by largely transferring what has worked at Fannie Mae and Freddie Mac to a new Multifamily Platform at the MSC.
Ensure access to affordable rental housing by funding the Housing Trust Fund, Capital Magnet Fund, and the new Market Access Fund.
Representative Waters stated that she has been working with her committee colleagues on the HOME Forward Act for months, and also sought input from numerous industry stakeholders as well as consumer and affordable housing advocates. However, all her work could be in vein, as any real progress towards housing finance reform is considered to be a long shot due to the fact that this is an election year – when almost any major legislative work becomes an uphill battle.
Sources:
The Hill – thehill.com
House Financial Services Committee – democrats.financialservices.gov
The New York Times – nytimes.com
MortgageOrb – mortgageorb.com