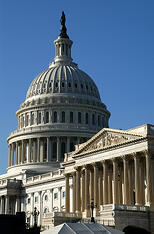 Senate Banking Committee Chairman Tim Johnson (D-SD) and ranking member Mike Crapo (R-ID) have officially introduced their new bipartisan housing finance reform bill—known as the Johnson-Crapo Bill—within the committee, and have also released its legislative text to the public as well.
Built off an earlier proposal that was introduced last year by Senators Bob Corker (R-TN) and Mike Warner (D-VA), the Johnson-Crapo Bill would wind down and eventually eliminate both Fannie Mae and Freddie Mac and replace the Government Sponsored Enterprises (GSEs) with the new Federal Mortgage Insurance Corporation (FMIC) – which would backstop qualified mortgages (QMs).
Certain functions that Fannie and Freddie currently handle would be transferred to the new FMIC, which will be modeled after the FDIC according to the two senators. In order to fund the new FMIC, mortgage lenders would be required to allocate 10% of their private capital up front.
The new bill also calls for the creation of a member-owned securitization platform "that will issue a single, standardized FMIC-wrapped security, and permit private label securities to be issued in a manner that encourages standardization and improved market liquidity". The building of this platform is already in the works, and is being developed by Common Securitization Solutions – an equally owned subsidiary of Fannie Mae and Freddie Mac.
In addition, the recently proposed Johnson-Crapo Bill will:
Provide clear rules of the road for servicers that choose to participate in the FMIC system.
Maintain a vibrant multifamily market by building upon successful risk-sharing mechanisms and products, and providing access to a broad range of markets.
Require strong underwriting standards that mirror the definition of "qualified mortgage", and set the down-payment requirement at 5% (with a short phase-in) – except for first-time homebuyers, which would be 3.5%.
Facilitate the broad availability of credit for eligible single-family and multifamily borrowers, monitor consumer and market access to credit, and provide market-based incentives and transparency to serve underserved areas.
Eliminate affordable housing goals and establish transparent and accountable housing-related funds that would focus on ensuring the availability of decent housing. The funds will not be paid for with tax dollars, but rather through a small FMIC user fee (10 basis points) that only those who chose to use the system pay for.
Allow current conforming loan limits to be maintained so that mortgage credit continues to be available in high-cost areas.
Maintain broad liquidity in the to-be-announced market, and direct the FMIC to take into account the impact of new products on the to-be-announced market.
A key challenge to implementing housing finance reform has been finding ways to increase private capital within the market. To address this, the Johnson-Crapo Bill would establish a mutual cooperative jointly owned by small lenders to ensure that institutions of all sizes will have direct access to the secondary market. This will prevent small lenders from being at the mercy of their larger competitors once the GSEs are dissolved.
With that being said, many are still skeptical that Johnson and Crapo's new proposal will eventually become law due to the Republican-controlled House of Representatives. Congressman Jeb Hensarling (R-TX) is unlikely to alter the House's own GSE reform proposal (known as the PATH Act), and it has also been speculated the House's GOP leadership will try to avoid the issues of housing reform all together.
To see the full version of the Johnson-Crapo Bill, please click here.
To see the section-by-section version, please click here.
To see the detailed summary, please click here.
Sources:
Inside Mortgage Finance – insidemortgagefinance.com
MortgageOrb – mortgageorb.com
Senate Banking Committee – banking.senate.gov