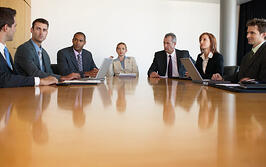 The Appraisal Foundation is currently looking for valuation professionals from across the nation to serve as resources for its Appraisal Practices Board (APB) as it develops future voluntary guidance on generally recognized valuation methods and techniques.
Those chosen as "subject matter experts" will be under the direction of the APB, and will be tasked with researching recognized texts, journals, articles, educational offerings, and other resources in order to provide voluntary guidance on emerging or complex issues within the industry. No compensation will be provided for their time, but those chosen will be recognized in all future guidance—known as Valuation Advisories—issued by the APB.
The following topics are currently under consideration by the APB:
Collection and Verification of Sales Data
The Valuation of Customer-Related Assets (Business Valuation)
The Valuation of Green Buildings:

Background and Core Competency
Residential Green Buildings
Non-Residential Green Buildings

Market Participant Acquisition Premiums (Control Premiums) (Business Valuation)

Contingent Consideration (Business Valuation)
If you're interested in becoming a "subject matter expert" for the APB, please fill out The Appraisal Foundation's official application.
Sources:
The Appraisal Foundation – appraisalfoundation.org
Valuation Review – valuationreview.com