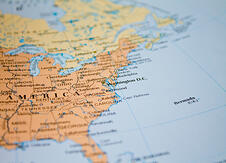 According to an article by Tristan North of Worldwide ERC®, twelve states and the District of Columbia currently do not have regulations in place regarding the registration and supervision of appraisal management companies (AMC), as required by the Dodd-Frank Act. These twelve states include:
Alaska
Hawaii
Idaho
Iowa
Maine
Massachusetts
New Jersey
New York
Ohio
Rhode Island
South Carolina
Wisconsin
According to Dodd-Frank, if a state didn't have AMC regulations in place by the beginning of 2014, then AMC's that operate within that said state couldn't perform appraisal services in connection with a federally related transaction. With that said, a twelve month extension period could be granted if it was determined that a state without official regulations in place has made substantial progress toward establishing regulations.
The Consumer Financial Protection Bureau (CFPB) was charged with creating the minimal requirements that all AMC's must follow in each state, and the Appraisal Subcommittee (ASC) of the Federal Financial Institution's Examiner Council was tasked with determining whether or not a state without official AMC legislation has made significant progress toward establishing AMC registration requirements.
Of these twelve states and D.C., only two have actually introduced legislation within their respective chambers – Massachusetts and New Jersey. However, neither D.C. nor the other ten states without so much as an introduction have seen their AMC's shut out of federally related transactions. This is because the CFPB and ASC have yet to issue a specific date by which states need to be in full compliance.
Naturally, this has created confusion among some state legislators and regulators as to when they need to have official regulations in place.
Source:
Worldwide ERC® – worldwideerc.org