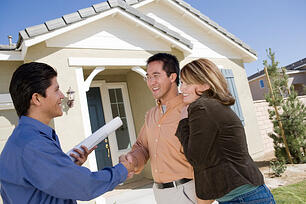 It's no secret that most of an appraiser's human interactions don't occur with actual clients. With that said, many do interact with the sellers of the subject property when conducting their appraisals, and it's still vastly important to act professional and display good customer service skills to these individuals – regardless if they are responsible for your paycheck or not.
The following customer service tips will help ensure a great experience for the seller and a great performance score for the appraiser:
A Great Impression is Key:
Impressions are made within milliseconds of meeting someone, and it is extremely important that your first impression is a positive one. Smile whenever the seller answers the door, and introduce yourself as the appraiser with a friendly handshake. It's also important to remember that most of our communication is non-verbal. What you wear and how you conduct yourself are key factors in how the seller will perceive you – so dress the part. Lastly, before leaving the subject property, it's always a good idea to ask the seller if there is anything you might have missed during your inspection or if they have any further questions. You don't want them to feel that you are rushing in, around, and out of their home.
Be on Time:
It is important to show up to the subject property when you say you will be there. Most sellers do not typically sit around all day doing nothing, and normally have to rearrange their busy schedules to accommodate your inspection. Even a matter of a few minutes can rub someone the wrong way; so if you say you will be there between 12 and 1pm, be sure to get there within that time frame.
Communicate Any Delays:
Things happen from time to time in life that we can't always control, and it's no different for appraisers. If you are running late for an inspection or have to reschedule it entirely, be sure to communicate this with the seller as soon as possible. Most sellers are usually understanding, as long as you remain in constant communication with them.
Educate:
In most cases, the sellers are not overly familiar about the appraisal process or even their local market. This provides a great opportunity for you to share your expertise and knowledge with them, which will naturally make them feel more comfortable. Let them know what's going on within their local real estate market, explain what AMCs are, talk about what you're doing and why as you move throughout their home, and continuously ask them if they have any questions. As you educate though, be sure not to embellish or mislead in anyway – always be truthful with your explanations and answers.
Practice Clear Communication:
The art of clear communication is often more difficult than it seems. Avoid using language that sounds passive-aggressive, and try to avoid using slang, acronyms, and/or technical jargon whenever possible. There will be times when you have to be more technical in order to explain something. When this occurs, be sure to clearly explain what you're talking about in plain English so the seller understands the situation.
Sources:
Appraisal Buzz – appraisalbuzz.com
Help Scout – helpscout.net