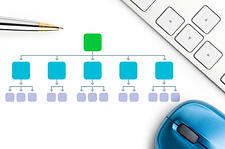 Global DMS' eTrac® Workflow app is a status-driven enhancement that allows users to create automated actions based on appraisal order statuses. The term "workflow" is used to describe the tasks, procedural steps, organizations or people involved, required input and output information, and tools needed for each step in a business process.
The eTrac Workflow App provides users with the ability to customize Action Items that can be mapped to order status changes, such as auto-assigning an engager to an order, emailing a vendor, running a MARS review, sending an XML file to the Uniform Collateral Data Portal (UCDP), and much more. Global DMS has implemented more than a dozen Action Items, and eTrac users can build these Workflow Action Items around any standard or custom statuses that they have created.
Features:
No limit on the number of Workflow Action Items that can be used

Auto-assign an engager to an order

Auto-assign a reviewer to an order

Automate key process points

Email the specified file types to the client
Available Workflow Action Items:
Customized email to a vendor

Customized email to a client user/processors

Customized email to an engager

Customized email to a reviewer

Run a MARS review

Customized email the office

Customized email the borrower

Customized email to a specific address

Customized email to supervisor

Customized email to account manager

Customized email to Ordered By

Run an automated valuation model (AVM)

Automatically send an XML file to the UCDP

Automatically send an eTrac Report Builder (ERB) report
Customers that take full advantage of eTrac's Workflow app will both streamline and simplify their entire appraisal management process – saving valuable time and money. To learn more, please contact the Global DMS Sales Department at either 877-866-2747 (option 2) or productinfo@globaldms.com.
Be sure to also check out our Workflow Engine webinar.