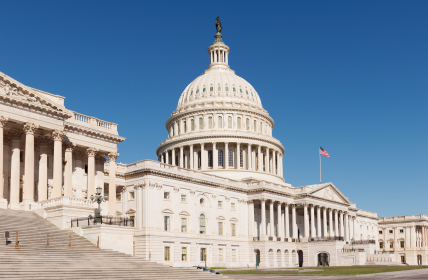 Thanks to the Senate's recent vote to ease the confirmation process for executive and judicial Presidential nominees, Mel Watt (D-NC) has received confirmation as the Director of the Federal Housing Finance Agency (FHFA). This specific vote, which is known as the "Nuclear Option", was invoked by Senate Majority Leader Harry Reid (D-NV) in response to Republicans blocking several Presidential nominees over the past half year.
Senate Democrats successfully voted to overturn an existing rule that required a minimum of 60 votes to break a filibuster blocking a floor vote for a Presidential nomination, which helped prevent Watt's initial confirmation bid a month ago. Under the chamber's new rules, a simple majority vote of 51 is all that is needed to end a filibuster.
All Presidential nominees, with the exception of Supreme Court judges, can now be approved by this simple majority vote rather than the previous requirement of 60 votes. Watt and his Democrat allies took full advantage of these new rules immediately, as the representative from Charlotte, North Carolina received his confirmation by a 57-41 vote.
Now that Watt has been confirmed to head the FHFA, which regulates both Fannie Mae and Freddie Mac, many are speculating that he will enforce policies upon the taxpayer-controlled enterprises to provide greater mortgage relief. Unlike Edward Demarco, the agency's current acting Director, Watt is more open to principal reductions.
In addition, it has also been speculated that Watt might want to throw out the FHFA's plans to reduce conforming loan limits, as well as reduce the Government Sponsored Enterprises' (GSE) presence in the multi-family mortgage market.
Republicans have continuously argued against Watt's confirmation due to his promotion of principal reduction and the easing of mortgage standards, which they say will put the American taxpayer at risk all over again. They've also argued that he isn't qualified to lead the FHFA due to the fact that he is a current lawmaker in the House of Representatives.
Mel Watt Overview:
Mel Watt is a Democratic Representative from North Carolina, and has been an elected member of the House of Representatives since 1993. He is currently a member of both the Congressional Black Caucus and the House Financial Services Committee, which oversees the nation's housing issues. During his time in Congress, Watt has continuously pressed for increased access to credit for minority and low-income consumers.
Sources:
Reuters – reuters.com
The Street – thestreet.com
DSNews – dsnews.com
Inside Mortgage Finance – insidemortgagefinance.com