For those of you using Internet Explorer as your main web browser, you may have noticed some issues with your eTrac System recently – such as an inability to open orders when clicking on the file number and/or drop-down menus not functioning properly. The cause behind these issues is from automatic updates that Microsoft is conducting, which upgrades your old Internet Explorer 10 (IE10) to Internet Explorer 11 (IE11).
These types of upgrades aren't very noticeable, but can cause minor problems in software systems like eTrac. Because of this, we have provided several steps below that you must follow in order to help resolve any issues.
NOTE: This is not an eTrac issue; it's an IE11 compatibility issue.
You Must Enable Compatibility Mode:
Open your browser
At the top of the webpage, you will see the Menu Bar (File Edit View Favorites Tools Help)
NOTE: If you don't see the Menu Bar at the top of your webpage, move your cursor to the very top of the screen, right click, and select Menu Bar.
Click on Tools in the Menu Bar (this opens the Tools menu)
Click on Compatibility View Settings (this opens the Compatibility View Settings dialog box)
Under the "Add this website" field, type in vmscloud.co
Click on the Add button, which completes the process
Make sure that the checkbox "Display intranet sites in Compatibility View" is checked
Uncheck "Use Microsoft compatibility lists"
Click on the Close button to exit the dialog box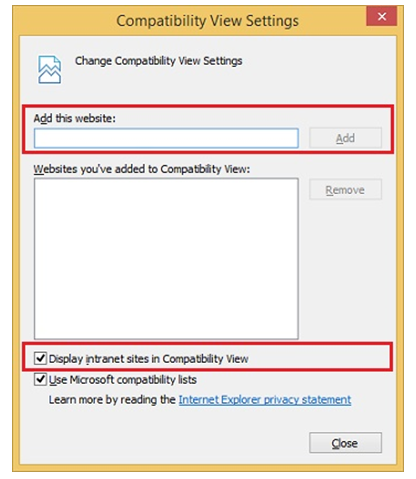 For those of you that are unsure what version of Internet Explorer you are using, you can find out by clicking on Help in the Menu Bar, followed by clicking on About Internet Explorer. A dialog box will then appear and will display the version your computer is currently running.