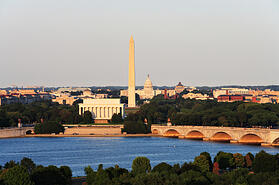 Next week, Global DMS will be at the Walter E. Washington Convention Center in Washington, D.C. for the MBA's 100th Annual Convention and Expo, where we will be exhibiting our flagship product eTrac® in booth 214. This annual event – which has been labeled by many as the "super bowl" of mortgage industry conferences – is scheduled from October 27th through the 30th, and will bring together thousands of mortgage industry professionals, industry leaders, and government officials from all across the country.
There are numerous benefits to attending this event, such as: the opportunity to meet with peers and voice your opinions about the industry's most pressing issues; admittance to informational speeches from the likes of George W. Bush, Richard Cordray, Shaun Donovan, and more; and direct access to valuable service providers that can take your business to the next level.
For more information, check out the conference's official webpage.
Global DMS Involvement:
Global DMS will be in attendance for the duration of the conference, and is excited by the opportunity to meet the many renowned professionals and government officials that will be present. Our company's CEO, Vladimir Bien-Aime, COO, Patricia Rauch, VP of Marketing, Jody Collup, VP of Sales, Rob Niess, and Sales Manager, Chris Palermo, will be on-site in booth 214 to answer any questions you may have about our company and its various products.
So please, check in with either Vladimir, Patricia, Jody, Rob, or Chris to learn more about our eTrac Platform and its numerous applications, LOS integrations, and software add-ons that will be sure to provide you with all your valuation management needs.
Global DMS' MBA Annual Party 2013:
Global DMS is hosting a VIP Masquerade Party on Monday, October 28th from 9:00pm to 12:00am at the Josephine Nightclub and Lounge in Washington, D.C. This event will provide attendees with great networking opportunities and a chance to unwind during the hustle and bustle of the industry's largest conference.
Complementary shuttle services will be provided to and from the main conference hotels, and the party will include a premium open bar. The dress code is everything from business to party attire, and masquerade masks will be available at the door – but we encourage that you bring your own, because special prizes will be awarded to those with the most creative masks.
This event does require registration, so please email marketing@globaldms.com if you are interested in attending by October 25th.
About Global DMS:
Founded in 1999, Global DMS caters to lenders, AMCs, appraisers, and other real estate entities, and is the mortgage industry's preeminent provider of residential and commercial real estate valuation management technology. Our all in one collateral management solution known as eTrac promotes compliance, improves workflow, and is completely cost-effective thanks to its cloud-based design.