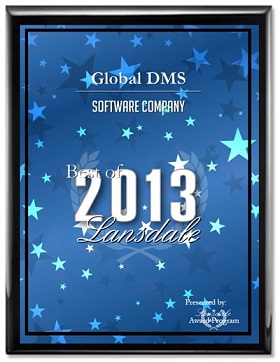 Global DMS recently received a local business award from the Lansdale Award Program, which was created to honor and generate public recognition of the achievements and positive contributions of businesses in and around the Lansdale, PA area.
Our company was chosen for the "2013 Best of Lansdale Award" in the Software Company Classification for our dedication and efforts in growing the business over the past year, and because we exemplified the best of small business – leading through customer service and community involvement. The selection process didn't include any nominations, voting, contests, or surveys, and only used empirical data supplied by independent third-parties.
"This recognition was a result of your dedication and efforts that have helped build your business," said the Lansdale Awards Program. "Your team is now part of an exclusive group of small businesses that have achieved this selection."
About Global DMS:

Founded in 1999 and headquartered in Lansdale, Pennsylvania, Global DMS is the mortgage industry's preeminent provider of commercial and residential real estate valuation solutions catering to lenders, servicers, AMCs, appraisers, and other real estate entities.
Our company's solution set is cost effectively delivered on a software-as-service (SaaS) transactional basis that ensures compliance adherence, reduces costs, increases efficiencies, and expedites the entire real estate appraisal process. Notable is that Global DMS has retained 100% of its lender clients since its inception. The solutions we offer include our eTrac® valuation management platform, eTrac Web Forms, Global Kinex, AVMs, and the MISMO Appraisal Review System (MARS).
About the Lansdale Award Program:


The Lansdale Award Program is an annual program honoring the achievements and accomplishments of local businesses throughout the greater Lansdale, Pennsylvania area. Recognition is given to those companies that have shown the ability to use their best practices and implemented programs to generate a competitive advantage and long-term value.
The Program was established to recognize the best of local businesses in the community, and works exclusively with local business owners, trade groups, professional associations, and other business advertising and marketing groups.