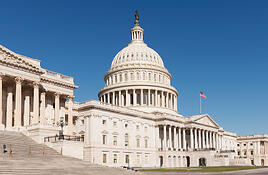 The Senate Banking Committee's top leaders have indicated that they intend to reach a bipartisan agreement by the end of 2013 on a bill to revamp the mortgage finance system in the United States -- if the federal government ever gets back to work that is. Many industry participants and analysts alike have felt that the housing reform issue was losing steam in the Senate, considering that nothing has been done with Senator Corker (R-TN) and Senator Warner's (D-VA) proposed Corker-Warner Bill that was introduced back in June.
The Committee's Chairman, Tim Johnson (D-SD), and lead Republican, Mike Crapo (R-ID), have said that they would hold numerous hearings over the next couple months to try to reach a general consensus on a legislative proposal. It's widely believed that the two Senators will incorporate many components from the Corker-Warner Bill—which would unwind Fannie Mae and Freddie Mac, expand the role of private mortgage insurers, and install a government backstop that would offer a common securitization platform and provide catastrophic re-insurance—into their own proposal.
The Corker-Warner Bill currently has the support of 10 Senators on the Senate Banking Committee, and has been endorsed by both President Obama and Treasury Secretary Jacob Lew. With that said, not all agree on every facet of the bill, and critics have argued that regional banks would be at a disadvantage in the mortgage business if no changes were made to the bill's proposed capital requirement.
Corker-Warner Bill Overview:
The Corker-Warner Bill would wind down both Fannie Mae and Freddie Mac over a 5 year period and replace the GSEs with private companies and a new government-owned corporation called the Federal Mortgage Insurance Corporation (FMIC). This corporation would regulate the entire secondary mortgage market, insure investors against catastrophic losses on qualifying mortgage-backed securities, and ensure a liquid and resilient mortgage market.
On the single-family side, privately funded, government-approved entities would buy qualifying mortgages and package them into securities. Other privately funded, government-approved entities would then insure the timely payment of principal and interest on those securities. If the security meets a few basic requirements, issuers would then have the option to purchase re-insurance against catastrophic risk from the FMIC.
The government guarantee would only be available on securities made up of safe mortgages as defined by the recently passed Qualified Mortgage Rule and an additional 5% down payment requirement. The guarantee would cover up to 90% of the security's value, while the remaining 10% must be covered by private sources – except in times of crisis. The FMIC would charge an appropriate fee to cover expected losses, plus a capital buffer of 2.5%.
The FMIC would also set rules for the entire secondary mortgage market, and manage a single platform for the issuance and management of all FMIC-backed securities. It would charge a 5 basis point fee on all FMIC-backed securities to fund affordable housing initiatives through the Housing Trust Fund and Capital Magnet Fund.
The multifamily system would function a little differently, in-which Fannie and Freddie's multifamily business would be transferred to the FMIC. The bill would give authorization to the FMIC to purchase, securitize, and guarantee multifamily mortgages for an appropriate fee.