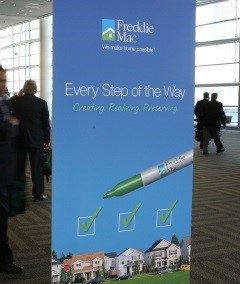 Fannie Mae and Freddie Mac recently sent out a notice to the industry regarding their intent to continue converting several of the current Uniform Appraisal Dataset (UAD) compliance warning edits to fatal edits within the Uniform Collateral Data Portal (UCDP) in early 2014 – no official date was provided.
This second phase of conversions will convert the following data fields from warning edits to fatal UAD edits:
Quality of Construction Rating (subject and
comparables)
Location Rating (subject and comparables)
View Rating (subject and comparables)
Condition Rating (subject and comparables)
Each of the data fields above has an associated UAD edit that will be returned by the UCDP if the data provided is incomplete or in an invalid format. If an appraisal is submitted to the UCDP and receives one or more fatal UAD edits, it will initiate Hard Stop 401 (UAD Compliance Check Failure) and a "Not Successful" status will be issued in the UCDP as a result. When a lender or appraisal vendor receives this "Not Successful" status in the UCDP, they must first correct the appraisal and then resubmit it with the required data in the correct format.
Fannie and Freddie have encouraged both lenders and vendors to begin performing analysis on all these data fields now to help ensure a smoother transition once the conversions have taken place. They also included a brief notification of the remaining data fields that will be converted from warning edits to fatal UAD edits later in 2014, and these include:
Subject and Comparable Address (including unit
number for condominiums)
Subject Contract Date
Comparable Date Sale/Time
Global Kinex:
Global DMS' Global Kinex application is continuously updated and prepared for every GSE conversion, and will compliantly deliver appraisal files directly to the UCDP without any delays or costly errors.
Global Kinex uses web services technology to allow for seamless integration to the UCDP, and can be integrated into any lender of AMC's infrastructure regardless of what software platform they operate. This state-of-the-art application will validate and extract the Base 64-encoded PDF within the MISMO XML file, automatically validate and correct appraisal files, seamlessly deliver files to the UCDP, and store your SSRs that are returned.