Last month, Global DMS welcomed Tom Bontemps to help support its internal operations and increased business. Tom Bontemps (Senior Accountant) was hired to help manage the company's Accounting Department.
Tom Bontemps: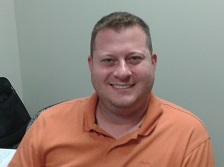 Tom began working for Global DMS on June 17, 2013 as the company's new Senior Accountant, and is responsible for performing any and all duties in the monthly accounting cycle – including maintaining the in house billing system, monthly invoicing, compiling journal entries, completing balance sheet reconciliations, performing financial analysis, financial statement compilation, general ledger accounting, and participating in various special projects as needed.
Prior to working for Global DMS, Tom started his career at Thane C. Martin, CPA, Inc. as a Staff Accountant, where he worked from 2003 to 2005. While there, he prepared corporate and individual income tax returns, financial statements, audits, reviews, and compilations. Tom then went on to work for Right Management Consultants, Inc. from 2006-2009 as a Senior Accountant. He was responsible for completing account reconciliations for all the company's different accounts (fixed assets, prepaids, cash, 401k, etc.), and closing accounts payable and accounts receivable at the end of each month and year.
In 2009, Tom moved on to work for Charles Kelly Jr. General Contractor as a Senior Accountant, where he remained until 2013. While there, he was responsible for completing both bank and general ledger reconciliations – including fixed assets, inventory, prepaids, accounts receivable, and accounts payable. He also implemented new accounting software, along with new procedures to ensure that there was proper internal controls and adequate reporting. While at Charles Kelly Jr. General Contractor, Tom also worked at two additional companies – Delaware Valley Industrial Resource Center as a Temporary Senior Accountant (2011-2012) and Amerigas as a Cost Analyst (2012-2013).
Tom graduated from the Haub School of Business at Saint Joseph's University in 2002 with a Bachelor's Degree in Accounting, and was awarded a University Scholarship. He also received the SMART AND ASSOCIATES Business Policy Competition Award in 2001.