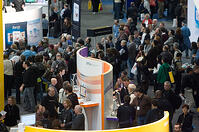 From May 19th through the 21st, Global DMS will be attending the TMBA's 97th Annual Convention in Lost Pines, Texas at the Hyatt Regency Resort and Spa. This convention will feature several keynote topics that pertain to CFPB regulations, doing business with FNMA in 2013, implementing a Compliance Management System, and more.
The TMBA's convention will provide attendees with an opportunity to get caught up on all the latest industry developments, exchange perspectives with peers, connect with service providers, and hear directly from industry experts.
To view the convention's official registration webpage, please click here.
Global DMS Involvement:
Global DMS will be in attendance for the duration of the convention, in-which our company's EVP of Sales, Robert Niess, and VP of Marketing, Jody Collup, will be on-site to answer any questions you may have about our company and its products.
So please be sure to check in with either Robert or Jody to learn more about our eTrac System, its numerous applications and software add-ons, as well as its multiple LOS integrations that will be sure to provide you with all your valuation management needs.
About Global DMS:
Founded in 1999, Global DMS caters to lenders, AMC's, appraisers, and other real estate entities, and is the mortgage industry's preeminent provider of residential and commercial real estate valuation management technology. Our all in one collateral process management solution known as eTrac promotes compliance, improves workflow, and is completely cost-effective thanks to its cloud-based design.