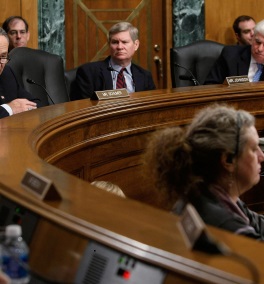 Senator Tim Johnson (D-SD), who is the current Chairman of the Senate Banking Committee, will not seek re-election in 2014. He is one of five Democratic Senators that will retire after 2014, as West Virginia's Jay Rockefeller, Iowa's Tom Harkin, Michigan's Carl Levin, and New Jersey's Frank Lautenberg have also stated that they won't be seeking new terms.
Senator Johnson's exit will create an opening at the top of the powerful Senate Banking Committee, which he has been in charge of since 2011 when he replaced Connecticut's long time standing Senator, Christopher Dodd. He has been a strong defender of the Dodd-Frank Act, and has been responsible for ensuring that President Obama's political nominees have acquired the necessary votes to secure their top-level positions.
During his time on the Committee, Senator Johnson has consistently pressured both federal regulators and those within the financial services industry, and has also helped obtain the reauthorization of the National Flood Insurance Program and the Export-Import Bank. With that said, he has yet to craft any legislation addressing the future of the Government Sponsored Enterprises (GSEs), and is running out of time to instill his influence on what could be done with Fannie and Freddie.
Senator Jack Reed (D-RI) is currently the second-ranking Democrat on the Committee, but isn't a lock to take over as the new Chairman due to his interest in the Senate's Armed Services Committee—which also has a high-level position opening up after 2014. Senator Chuck Schumer (D-NY) is next in line, followed by Senator Bob Menendez (D-NJ) and then Senator Sherrod Brown (D-OH).
Senator Johnson is currently serving his third term in the Senate, and was first elected in 1996 after serving nearly a decade in South Dakota's House of Representatives.