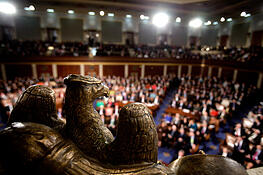 Just over a week ago, Representatives Maxine Waters (D-CA) and Michael Capuano (D-MA) reintroduced the FHA Emergency Fiscal and Solvency Act, which was created to help strengthen the Federal Housing Administration (FHA) and ensure its long-term solvency. A similar measure was cleared by the House of Representatives during the last Congress, and received a lot of bi-partisan support. Hoping for a similar result, Congresswoman Waters has called on the House's current members to quickly pass the legislation again.
Over the past few years, the FHA has continuously been providing liquidity, while private firms have written less and less mortgage insurance policies—especially for first time homebuyers. The Administration is now looking at potentially billions of dollars in losses, and its insurance fund has taken a significant hit since the subprime mortgage crisis began.
The FHA's financial problems have also caused quite a stir on Capitol Hill, where Republicans have contested that the Administration has overstepped its boundaries in guaranteeing mortgages, thus hurting private-sector investment. On the contrary, Democrats have contested that the FHA has stepped up to the plate during the housing downturn to ensure the continued flow of affordable credit, and now needs Congress' support and help to alleviate its massive debt.
If the reintroduced Act is ever signed into law, the FHA would be authorized to require indemnification for loans it guarantees that turn out to be improperly underwritten. The Act would also give the Administration more flexibility to take action against loan originators who engage in faulty underwriting or who have high loan losses.
Congresswoman Waters, a Ranking Member of the House Committee on Financial Services, said that this is an "important first step" that should be immediately considered. Congressman Capuano, the top Democrat on the Subcommittee on Housing and Insurance, feels the same way and would like both parties to move forward with what can be agreed upon so additional improvements can be made.