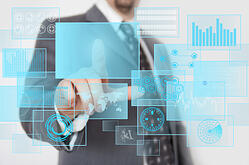 1) Makes sure your appraisers are paid "customary and reasonable" fees:
A robust online appraisal management technology service will allow an AMC or lender to quickly calculate several data points to determine how appraisers are compensated in a specific location, so they know exactly what is "customary and reasonable" for every appraiser they use.
GlobalDMS' eTrac Enterprise for Lenders or AMCs
2) Keeps track of appraiser licensing, complaints, and fees:
When using a cloud-based appraisal management system, lenders and AMCs can require all their appraisers to register with their company and upload all their required documentation via a website. This makes it possible for them to keep a more accurate track of this information, providing assurance that the appraisers they're using have met all requirements.
GlobalDMS' eTrac Enterprise for Lenders or AMCs
3) Ensures objectivity and impartiality in your appraisals:
With appraisals now having to be kept separate from loan processing, lenders should strongly consider using an online appraisal management technology service, because it will always be consistent, transparent, and accountable. This technology will typically provide lenders with various categories for optimal assignment that include coverage area, licensing, skill levels, location, price, workload, past performance, and quality ratings.
GlobalDMS' eTrac Enterprise for Lenders
4) Allows direct access to appraisers, while fulfilling legal mandates:
Lenders that use a high quality appraisal management technology system can maintain separation between their production staff and the appraisers they use, while still working directly with the appraisers they prefer. These technologies will allow lenders to compliantly assign, track, and review appraisals quickly and cost-effectively.
GlobalDMS' eTrac Enterprise for Lenders
5) Makes sure your appraisal data is uniform and consistent:
The right cloud-based appraisal management technology will use a flexible rule engine to validate the appraisal reports in either a PDF or MISMO XML format to ensure that they are always compliant with the new Uniform Data Collection Portal (UCDP).
GlobalDMS' Global Kinex Portal
6) Makes sure you are ready with proof in case of an audit:
By using cloud-based appraisal management software, lenders can easily conduct an internal audit and securely backup all their required information before any regulators ever arrive on site. When the regulators do inevitably arrive, the "cloud" will have all their appraisal reports, licensing information, communication and assignment logs, and Submission Summary Reports (SSR) centralized and available upon request.