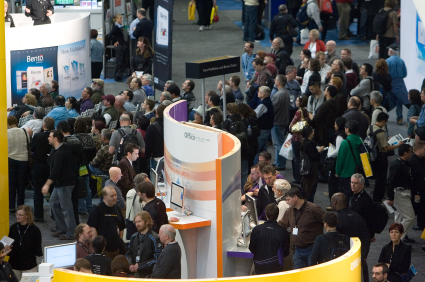 If you're a mortgage industry professional and you answered no to the question in the title above, then you should strongly consider altering your plans next week so you can attend this important event in Chicago, IL. The MBA's annual convention is considered by most to be the mortgage industry's super bowl of conventions, and I guarantee that this experience won't be like the typical smaller-scale shows and conferences that you're probably used to.
Mortgage industry professionals from all over the country will be descending upon the Hyatt in Chicago on October 21st for this convention, and nearly 3,500 individuals—from lenders to service providers to government officials—have already registered to attend. There are numerous benefits to attending this event, such as: opportunities to meet with your peers and voice your opinions about some the industry's most pressing issues; admittance to informational speeches from the likes of President Bill Clinton, Mayor Rudolph Giuliani, and more; and direct access to premiere companies that provide products and services that will take your business to the next level.
Details of the MBA's 99th Annual Convention & Expo:
When: Sunday, October 21 through Wednesday, October 24
Where: The Hyatt Regency of Chicago – 151 East Wacker Dr. Chicago, IL 60601
Registration:
The convention's registration is broken down into two categories: individual and group. Group registrations will receive price discounts, but are limited to MBA members only. Whether you're planning to register by yourself or in a group, everyone is able to register through the duration of the convention; but obviously different rates will apply. The rates are as follows:
Individual member: $1,195 through October 20; then $1,245 when registering on-site
Individual nonmember: $2,295 through October 20; then $2,345 when registering on-site
5 – 10 member group: $1,115 through October 20; then $1,145 when registering on-site
11 – 20 member group: $1,050 through October 20; then $1,100 when registering on-site
Each registrant is limited to one paid guest—which is defined as a spouse, significant other, or friend; not co-workers or partners—and the guest registration fee is set-in-stone at $645 through the duration of the convention.
Please click the link below to visit the MBA's registration page: http://events.mortgagebankers.org/99th_annual/register
GlobalDMS Involvement:
GlobalDMS will be in attendance for the duration of the convention, and is excited by the opportunity to meet the many renowned professionals that will be present. We will be exhibiting at booth number 519 on these dates:
Monday, October 22 from 10:00am to 5:30pm
Tuesday, October 23 from 11:30am to 4:30pm
In attendance will be our company's CEO Vlad Bien-Aime, our CRO Matt McHale, our Executive VP of Sales Robert Niess, our Executive VP of Client Solutions Andrew Pruitt, and our Account Manager Melissa Key.
Our company caters to lenders, servicers, AMCs, appraisers, and other real estate entities, and is the mortgage industry's preeminent provider of commercial and residential real estate valuation technology solutions. Our all in one collateral process management solution, eTrac Enterprise, promotes compliance, improves workflow, and will bring you more efficiency, accuracy, and cost-effectiveness. So please stop by the GlobalDMS booth to learn more about our flagship product, its several applications, and its numerous add-ons that will be sure to provide you with all your valuation needs.