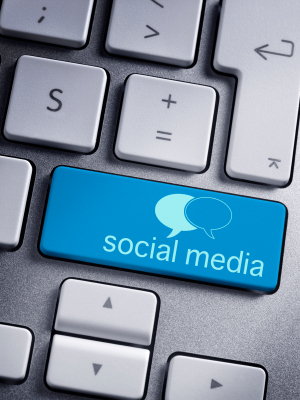 Facebook, Twitter, YouTube, oh my! I know that many of you probably cringe at the thought of actually utilizing these resources and are probably thinking, "What advantages could these sites possibly bring me?" Truth is, using social networks can actually make you stand out from your competitors, and will allow you to engage and connect with your existing and potential clients on an even higher and more efficient level.
Social media leverages web-based technologies to turn communication into interactive dialogues; dialogues into trust; trust into recommendations; and then recommendations into sales and loyalty. Having a presence on a social networking site will help keep your business on the industry map, and requires relatively little time, money, and effort to implement and/or maintain. There are a number of key areas in-which social media can help improve your business, such as: gathering business intelligence, recruitment, lead generation, marketing, customer interaction, brand building, and locating strategic commercial partners.
Facebook: This is the world's largest social media site with a user base of almost a billion people/companies worldwide. Facebook provides an outstanding forum to showcase who you are, what you represent, and what you or your company does. It also allows you to continually update what your company is currently working on and what's new—such as new listings, new interest rates, compliance changes, job openings/changes, recent foreclosures, etc. Now-a-days, most people look for a company's Facebook page before searching for anything else, and it's important to follow these basic procedures outlined below:
Visuals are important, and you must think beyond just plain text when showcasing your company and/or promotions. For example, if you're trying to showcase a new listing, you should post a photo of that said house and maybe a short video to provide a virtualized tour of the property.
Implement Facebook Connect on your site so users can log-in with their Facebook ID and easily share and distribute their activities on your page with their Facebook friends.
Keep your users updated with new content on anything and everything going on within your organization.
Create discussion boards to solicit user feedback and gather valuable information on what the users like and what they don't like so you can make changes and adapt accordingly—for example, which loan type works better for them, are they trending towards buying or renting, etc.
Twitter: Having a Twitter account allows you to efficiently announce news about your business within a matter of seconds, and directly to those who matter most—your followers. A good Twitter account will inform and engage your followers by providing pertinent information that they can't access elsewhere, and acts as an interactive news section so potential followers can view its stream directly from your website—look for Twitter widgets or applications in your website's dashboard. Here are some do's and don'ts when it comes to maintaining a Twitter account so you can begin effectively reaching out to the 190 million users worldwide:
Maximize the sides of your Twitter page with contact information, offers, promotions, etc.—these can always be easily changed.
Always "retweet" important and time sensitive issues to constantly keep your followers updated
Provide twitter specific offers, such as special twitter only rates like $75 off closing fees if they follow you.
You should post a tweet regularly at a minimum of once a week, but at a maximum of only once per day.
Post links in tweets to your companies articles, websites, or anything of relevance to your industry that customers would find useful and interesting
Don't look different for difference sake and make your Twitter page mirror your branding—customize your Twitter presence with your logo.
Don't talk like a bank chairman by trying to stay too formal—this is a social media site where you should post tweets and responses using an upbeat and friendly tone.
Note: You only have 160 characters to work with per tweet, so make them count!
YouTube: YouTube allows you to provide a visual presentation unlike all other mediums, because rather than only talking about new listings, employees, facilities, etc., you can show them for maximum impact. This site also enables you to release instructional videos so consumers can have a better grasp on the functions of your business, which builds trust because it shows that your company isn't hiding anything from them. Humans love actually seeing something verses only reading about it, and this is what YouTube gives you if you follow these basic guidelines:
Be graphically consistent by using your logo colors in your site's design.
Keep your site description brief by limiting it to one paragraph—add relevant keywords, because YouTube is now the second largest search engine in the world next to Google.
Make sure that the press is aware of your YouTube channel for further promotion.
Promote your videos on Facebook by incorporating them into status updates—post a small synopsis about the video and a link to your YouTube page.
Don't upload things like PowerPoint presentations
Use a recognizable account name so everyone knows who you are—like the direct name of your institution.
Match your YouTube URL with your website's URL to remain consistent and to be easily found.
LinkedIn: This social networking site seems to be the most popular within the mortgage industry, but many of you still don't take advantage of this great resource. LinkedIn provides a true business presence and allows you to connect with local companies, professionals, and consumers alike to display you or your company's role as a skilled professional or establishment. Begin developing your business's image by following this advice:
Pay the small fee to create a corporate account, which will better promote your organization by offering certain perks like product descriptions.
Customize your page with your company logo and contact information.
Don't stop with the creation of your account, and join groups that pertain to the mortgage industry—make yourself heard by contributing to questions asked in group discussions and asking questions of your own.
My best advice for you is to use all these social media sites in conjunction with one-another so you can leverage the millions upon millions of users that each site has to offer all at the same time. Once you create a site on one of these social networks, send an email to all your current clients and prospects letting them know of its availability—this will provoke word-of-mouth, which will lead to more people visiting your sites.
Please visit GlobalDMS on Facebook, Twitter and LinkedIn. (YouTube channel is coming soon)