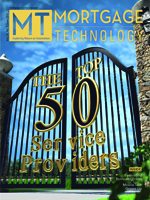 GlobalDMS was listed as one of this year's "Top 50 Service Providers" in the residential mortgage industry by Mortgage Technology Magazine. Every year, Mortgage Technology Magazine selects and lists the residential mortgage industry's top 50 service providers, and this is the 4th consecutive year that GlobalDMS has been selected.
The list recognizes technology and services vendors that have excelled in four key categories: continued advancement of technology and services; having a viable revenue model and value proposition to customers; providing exceptional customer service; and having a unique impact on the mortgage industry. Service providers were asked to submit nominations, which included a detailed questionnaire, and in the end about 100 service providers were nominated to be a part of this prestigious list. All nominations were judged by the editorial staff at Mortgage Technology Magazine, and those selected can be seen in this month's edition of the magazine.
Mortgage Technology recognized GlobalDMS for several technological advancements made over the past year, and they began by highlighting our company's release of eTrac A.T.O.M. This is a revolutionary mobile application for appraisers, which allows them to fully manage their appraisal orders directly from their smartphones. The new application is completely in-sync with their office's eTrac system, meaning any time an appraiser updates orders using the application, those same orders are also updated on their office system in real-time.
The magazine then went on to highlight our company's WebForms software, which allows mortgage industry professionals to easily produce reports—appraisals, Broker Price Opinions (BPOs), Property Condition Reports (PCRs), inspections, and customized review forms—entirely online from anywhere with an internet connection. The software also gives appraisers access to all their data in one place without the need of expensive servers, and negates the worry of a catastrophic system failure by securely backing up every file.
Mortgage Technology also acknowledged our company's MARS platform, which is an automated appraisal review and conversion system that is fully customizable and configurable. MARS uses a standard rule set that covers hundreds of the most common errors and omission points, and makes sure appraisals are also compliant with all UAD rules defined by the GSEs. Finally, the platform uses a proprietary conversion process to further validate and convert the Base 64-encoded PDF within the MISMO XML file, and provides automated submission to the UCDP.
The magazine finished up its summation of why our company was selected as a top 50 service provider by giving us credit for applying weekly updates to our Software as a Service (SaaS) technology, which always provides further enhancements for the benefit of our clients.
At GlobalDMS, we are very thankful to once again be a part of Mortgage Technology's "Top 50 Service Providers" list. Our dedicated staff works very hard to ensure our clients have a good overall experience with our company and its products, and to receive recognition for that hard work is truly appreciated by all. If you're not already a client of ours and are interested in learning more about our company and its products, contact us today for a free consultation; and be sure to click the links above to view more information on those specific products.