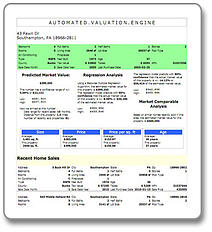 Over the past decade, the valuation realm has grown exponentially, and so have the valuation products that now seem to fill every niche of the mortgage industry. Though a lot of appraisers were unhappy with the many appraisal alternative valuation technologies when they first hit the market, there seems to be a growing trend of appraisers actually using these technologies to benefit and improve their businesses.
Most appraisers are already familiar with the desktop appraisals, but shorthand appraiser-assisted valuations range from Collateral Valuation Reports (CVR) to appraiser-assisted automated valuation models (AVMs). There are also residential evaluation reports (RERs) and other evaluations that include documentation of the property's current condition, which are known as property condition reports (PCRs). These products can be used in combination—depending on the type—to efficiently support home equity origination, purchase money transactions, refinances, servicing, and default services.
These relatively new technologies will provide valuation professionals with an opportunity to expand their expertise and their practice. Most appraisers would probably describe themselves as being in the appraisal business, in which they generate appraisals for a client; but to simply define the function of an appraisal business as only generating appraisals is far too limiting. Truth is, appraisers are in the collateral valuation business and these new technologies are focused on the core roots of valuation analysis, filtering, and data gathering.
AVMs are a great tool for appraisers, and have been around for several years now. Since their inception, AVMs were designed specifically to aid in the work of collateral valuations and have become faster, smarter, and more efficient tools over the past few years. AVMs have the ability to rapidly analyze large amounts of data, and can be used as a starting point in the valuation process in a number of ways—pre-fill appraiser forms, assess the price trends for a neighborhood and zip code to understand home prices, market trends, etc. Best of all, you can access AVMs from any location that has an internet connection on your computer.
There has been a worry that AVMs will eliminate the need for appraisers, and many have stayed away from this helpful resource. In reality, this is a misconception and they will actually enhance the business appraisers already do if used properly. Appraisers need to realize that most AVMs were initially created and developed by appraisers, and those who have used them have put themselves ahead of the curve.
At GlobalDMS, we offer multiple AVMs that will help you produce fast and cost-effective residential property valuations. Our models use detailed local, regional and national information to provide valuations within seconds. To learn more about our AVMs or to receive a free consultation, please Contact Us today!