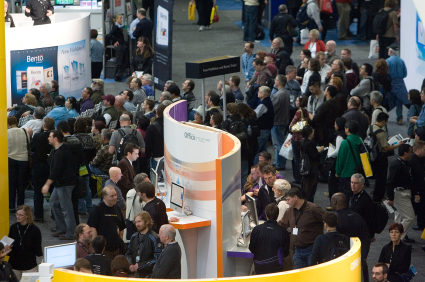 Whether you're a seasoned veteran or brand new to the trade show experience, common mistakes are bound to happen that can hinder what you're trying to accomplish—marketing your company and its products and services to new prospects and existing clients. When attending a trade show, you and your company are investing a lot of time and money to be there. The last thing you want to do is get in your own way of having a successful experience.
Not Defining Your Target Audience
When planning for trade shows, it is essential that your company first defines its target audience. By having a thorough understanding of your buyers, and how they make their purchasing decisions, you will be able to make better choices on what trade shows will bring more profitable results if your company should attend. Specialized trade shows usually have a higher percentage of likely prospects versus a larger more general show, and exposure to a few hundred very qualified targets is always more beneficial than exposure to thousands of irrelevant visitors. Your company should review all the trade shows it attended in the past and discard the ones that yielded disappointing results.
Forgetting to Spread the Word
Once defining your target audience, you want to make sure that they know you will be attending the trade show. The last thing you want to hear from either existing or potential clients is that they didn't know you would be there. You should develop a plan to contact all of your current and potential clients to let them know you'll be in attendance—a mass-email using a system like Global Communicator is usually sufficient enough to spread the word far and wide.
Undefined Goals and Objectives
Compiling a detailed set of goals and objectives will give your exhibit a defined focus and direction during the trade show, and will ensure a more successful communication with customers. By setting some sales and leads goals for the duration of the trade show, your company will be able to present a more unified and direct message to clients and will have the proper marketing materials on hand to enhance your message even further.
Not Following Up on New Opportunities
Be sure to have a plan set in place for efficiently and effectively contacting your new leads immediately after the conclusion of the trade show. If they were interested in your company enough to provide their contact information, then they'll appreciate hearing from you right away with more details. The last thing you want to do is wait too long to contact them and have them forget all about you. Don't get lazy, and be sure to make the most of these new business opportunities.
GlobalDMS will be attending or exhibiting at several trade shows coming up over the next several months:
Booth numbers and locations will not be provided until a couple weeks before the shows start, but if you have any questions feel free to Contact Us.