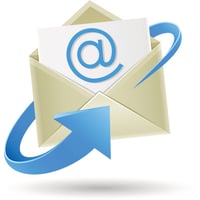 One of the most important tasks for a business is to maintain contact with its clients, while developing effective strategies to attract potential clients. Developing and regularly conducting an informative emailed newsletter will prove to be a very important marketing asset for those who create one. Having a website and blog simply isn't enough, nor are they nearly as effective as they could be if your company emailed a monthly newsletter. This is because a monthly newsletter will better promote your company's website and blog, and most importantly will get your company's message out there to the masses both efficiently and cost-effectively.
Creating a newsletter is truly easier than you may be thinking, and has a payoff that's well worth it. Companies that use a monthly newsletter are expected to see an ROI (Return On Investment) of $39.40 for every $1 they invest into it. This is because an effective newsletter will directly reach out to as many potential clients as you can find, and will increase lead generation and cross selling. In an Econsultancy survey that was conducted in 2011, 72% of the respondents who used emailed newsletters said their ROIs were either excellent or very good.
With that being said, it is still a lot more cost-effective and profitable to grow your business by increasing revenue and referrals from existing clients. A 5% increase in client retention will yield a profit increase of 25 to 100%. By maintaining a newsletter, your company will have the ability to successfully retain clients at a higher level, because you will have a better overall connection with them. Clients don't like a lack of communication, or to be left in the dark about what's going on. Newsletters prevent this from happening, because they allow your company to stay in touch regularly with clients and keep them up-to-date on new services, products, updates, regulations, etc.
Tips for Creating an Effective Newsletter
Know its purpose before creating it, and centralize its content around this purpose
Keep it simple with a clear message that is easy to follow
Try to keep the length within reason—1,000 to 2,000 words at the most
Articles should be informative and create an interest in your company, its products, and its services
The information provided should be something clients or potential clients can actually use and that they would keep on file for future reference
Be consistent in your distribution—a monthly newsletter should be sufficient enough, but have it sent out at the same time every month so clients know when to expect it
Create an emailed newsletter versus a hard copy newsletter that must be physically mailed, because your email database will provide instant access to all your clients and prospects with your newsletter being sent to all of them immediately in real-time.
Emailed newsletter campaigns are 10 times more effective than direct mail campaigns, according to IMT Strategies
Provide direct links to your company's website, and/or important and relevant pages within it
Here at GlobalDMS, we have a viable solution that will help you create effective newsletters to better market your company, products, services, etc. Our Global Communicator system will allow you to efficiently send personalized newsletters to everyone within your databases, and even to those outside of them. With its cross-browser capabilities, Global Communicator will work with any platform and implementing the system is easy and cost-effective. To learn more or to receive a free consultation, Contact Us today!