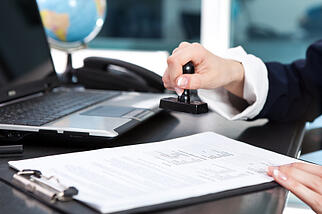 All appraisers and AMCs--for those states with active AMC legislation--must have a certified license that is registered with every state they conduct their business in. This mandatory licensing was put in place to help better supervise the industry, and further protect consumers from fraud. Appraisers and AMCs alike cannot act as such until they aquire their licenses and register with the state(s) they plan to do business in. When applying for and registering their licenses, appraisers and AMCs will submit everything they need directly to their state's board.
AMCs (For States with Active AMC Legislation in Place):
AMCs must pay a registration fee that will vary from state-to-state
A Controlling Person, sometimes labeled as Compliance Manager, must be selected/created
A criminal background check is required for anyone owning more than 10% of the company
Certain states require a mandatory security bond, with the amounts varying from state-to-state: AL, AR, AZ, GA, KY, MO, NE, NM, OR, PA, TN, WA
Certain states have mandatory prerequisites for registration in place that an applying AMC must abide by: CT, FL, MN, MT, NC, OK, OR, SD, AL, AZ, NE, NM, UT, VT
Renewal periods, and their fee amounts, vary from state-to-state, but usually occur every 1 to 2 years
Visit this link for more information about AMC state regulations: http://www.appraisalinstitute.org/newsadvocacy/stateissues.aspx
Appraisers:
Each state requires that appraisers be at least 18 years of age
Applicants must first successfully complete a certain amount of classroom hours—varies from state-to-state, but usually 150 to 200 hours—in courses approved by their state's board
There are mandatory experience requirements that again vary between states—usually 2,000+ hours
Examinations must be passed
Applicants must pay the appropriate registration fee, which will vary from state-to-state
Appraisers must renew their licenses usually every 1 to 2 years depending on the state they're licensed with, and pay the appropriate fee that's designated by their state
Appraisers must fulfill their continuing education requirements before renewal, which varies between states—usually 14 to 30 hours in approved courses
completion of the 7 hour National USPAP Update Course is always mandatory in all states
If you are an appraiser or an AMC, it is essential that they follow all requirements set forth by your state's board. One missing requirement will have your license application rejected, and delay your business operations. If you are caught operating without being registered and licensed with your state, you are sure to face harsh penalties and fines that you simply can't afford.