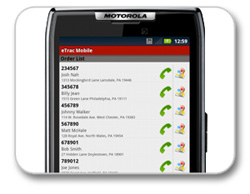 Here at GlobalDMS, we have created a new mobile application for appraisers called eTrac A.T.O.M.—Appraiser Tracking On Mobile. This new mobile app will allow appraisers to manage all their orders with ease directly from their phones, saving valuable time and resources. It will also be fully in sync with their eTrac software on their office computers, automatically updating their office systems with any changes they make to their orders using the app--in real-time.
An appraiser will log in using their company name, user name and a password to keep everything secure. eTrac A.T.O.M. will then open up, and automatically download the appraiser's entire list of orders from their eTrac system in their office. From this general list, an appraiser will see the orders' file numbers, current statuses, and the borrowers' addresses. By pressing on an individual order, an order detail screen will appear showing more specific details: the borrower, address, the lender, the product, the property type, contact name, contact phone number, vender fees, and the due date.
From this order detail screen, eTrac A.T.O.M. will allow appraisers to see both what and who the orders are for, and will give them the ability to accept, accept with conditions, or decline the orders. It will also allow them to update their orders' statuses, as well as schedule inspections.
This new mobile app is also completely integrated with the phone itself, and makes calling the property's contact or navigating to the subject property easy and efficient. Located to the right of each order will be a tiny phone icon and map icon. When the appraiser hits the phone icon, the property's contact number automatically pops-up with the appraiser only needing to hit the send button to make the call. When an appraiser hits the map icon, Google Maps will instantly be opened and will pinpoint the subject property's location. By then hitting the phone's menu button, Google Navigation will immediately be started so an appraiser instantly knows how to get to the subject property without ever leaving the app.
These two features will work from the order detail screen as well, with the appraiser only needing to press over the phone number or the address that's listed there.