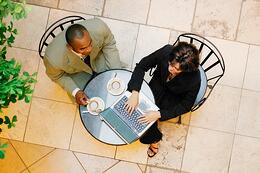 Welcome back to the GlobalDMS blog. As you may know, we have been highlighting the many positives of making your valuation software mobile. One of our earlier posts talked about several products that can help in this process, but many of you may have concerns with upgrading your devices. In this latest segment of Appraisal Software, we're going to outline the benefits of upgrading an outdated mobile phone with one of the new state-of-the-art smartphones.
Organization: Smartphones can function as a personal organizer, providing electronic diaries, automatic reminders, and contact lists.
Flexible working: Like a PDA, you can use a smartphone to review and edit appointments, contacts or documents, as well as take notes all while on the go.
Always connected: Smartphones can always connect to the internet from anywhere via satellite service, giving you the ability to check e-mails or cruise the web while on the move. This is great for a mobile workforce, and helps them stay in touch with the business more efficiently.
Improved information sharing: More data can be received and transmitted using a smartphone, such as large e-mail attachments or data files from websites. Older cell phones can only manage small e-mails, and cannot send any attachments.
Faster Communication: Accessing the web, along with the overall speed of the browser, is far quicker than older devices, which makes it easier to access your e-mails and other information from the internet.
Access to mobile applications: Smartphones give you direct access to hundreds of thousands of business mobile applications that usually operate via the internet. These applications will save you time, money and resources, which will make managing your daily operations more efficient and cost-effective.
At Global DMS, we offer a new mobile application for appraisers called eTrac A.T.O.M.—Appraiser Tracking On Mobile. This revolutionary app will allow appraisers to quickly and efficiently manage all their orders directly from the smartphones. The app will also be fully in-sync with their eTrac software on their office computers, automatically updating any changes made to orders in real-time. To learn more about eTrac A.T.O.M. and how it could benefit your appraisal process, contact us today.