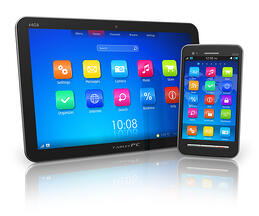 Welcome back to the GlobalDMS Blog. This week, we're talking about online appraisal software and taking your valuation management mobile. Our last post analyzed the efficiency and quick return on investment that mobile valuation management software provides. This post will give you four examples of the best technology out there -- two smartphones, a tablet and an efficiency-boosting accessory -- for appraisal management.
Droid Bionic, smartphone
If you have a need for speed, this is your gadget. With 4G LTE service, a dual-core processor, a large screen and the latest version of the Android operating system, the Droid Bionic is remarkably fast and very well suited for business use.
The dual-core, 1 GHz Texas Instruments processor has enough storage to hold 48GB of video and data. Using Verizon's fast 4G LTE networkyou can connect up to five devices via Wi-Fi to your Bionic.
Apple iPhone 4S, smartphone
Apple's latest and greatest version of its acclaimed iPhone series, provides lightning speed and efficiency. With great battery life, the iPhone 4S is perfect for those working in the field.
The dual-core A5 chip delivers twice the processing power, which makes the phone quick and responsive when browsing the web and running apps. Comes with iCloud, which stores all your documents and transfers them wirelessly to all your other devices seemlessly.
Apple iPad, tablet
Apple's on it's third generation iPad, which provides a breakthrough retina display and connection to the ultra fast 4G networks. The new iPad also has over 200,000 business apps currently available in iStore.
The iPad will help streamline your daily business tasks and improve efficiency, while being able to integrate with your company's existing infrastructure. With a battery life of 10-plus hours, the iPad is great for field work.
LapDock, laptop-like accessory
This is an excellent $300 investment for the appraiser who spends a lot of time in the field and gets frustrated when entering data via touchscreen. With an 11.6-inch display and keyboard and trackpad that plug into the phone, this could potentially eliminate the need for a laptop.
Check back soon or subscribe to the GlobalDMS Blog for some more advice on mobilizing your valuation and collateral management system.
In the meantime, click here to learn about the cutting-edge technology infused with high-touch implementation expertise that Global Launch offers. If you want an all-in-one, seamless experience for establishing and optimizing your cloud-based valuation management, this is your simple solution.