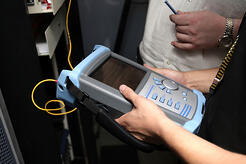 There's no doubt about it -- our world is on the go, and becoming more mobile-friendly with each new smartphone and iPad that comes out. To stay competitive in the appraisal arena, you have to adapt. Go with the mobile flow, literally. The purpose of this week's GlobalDMS blog posts is to enhance your knowledge of the latest technologies and cloud-based mobile tools available for the appraisal management process.
The biggest reason to invest in mobile valuation management software is efficiency. And the biggest hesitation factor is cost.
Many appraisers are hesitant to embrace mobile appraisal management software because the "gadgets" are too expensive. While this may be true -- a laser measurer costs about $650 -- there is a major flaw in their thinking: they are only thinking on the surface. The price of the gadget is an investment, so while it may set you back slightly now, it'll pay off brilliantly in the future.
For example, that $650 laser distance meter cuts your inspection time by an average of five minutes, and depending on your workload, you could fit one or two more appraisals into your schedule per month. After 90 days, your investment is returned. And after that, it's all an uphill profit in time and money savings.
And iPads, the newest version costing $500, are less expensive than lasers and they'll save you twice the amount of time. How? The time savings don't come from inputting the data on the tablet, because this can take some time, but from not having to reenter it back at the office. This includes the front page of the URAR, the sketch and even the pictures! Say it takes you 20 minutes at each inspection and 20 minutes at the office redrawing and reentering data. With an iPad or other tablet, it may take you 25 minutes at the inspection to input the data, but that time in the office is eradicated -- therefore, that's 15 minutes saved per appraisal. Multiply that by the number of appraisals you do a day, and you'll have a nice chunk of extra time in your pocket.
But the real time-saver comes from the cloud element of mobile valuation management – sending your report back to the office remotely from the field. So while you're traveling from inspection to office, your staff is already at work on the data you sent via electronic airwaves. When you get back to your office, the administrative tasks are already finished and your more technical expertise can get to work right away.
Are you ready to shoot for the "cloud" and invest in online appraisal software? Check out Global eTrac WebForms, a simple solution that lets you create and deliver reports from any mobile device through any Internet browser. No need to worry about compatibility issues or driver downloads, and it's a pay-as-you-go solution, making it very cost-effective. And compliance with the latest state and HUD requirements is, of course, guaranteed.