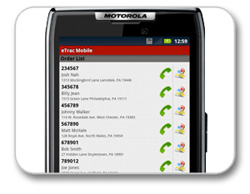 Because of cloud technology, appraisers can create appraisal reports and deliver them from anywhere – the local coffee shop, home, office, or even the subject property.
Global eTrac WebForms is a simple solution that lets appraisers create and deliver reports via Windows PC, Macintosh and any number of mobile devices through any Internet browser, including smart phones or tablet PCs. No need to worry about compatibility issues or driver downloads. Plus, it's a pay-as-you-go solution, making it very affordable.
WebForms makes sure all appraisals are in compliance because both state and HUD requirements are built in and updated frequently. Reports are stored on the Global DMS secure servers, so all is not lost if there is a system crash in your office. The WebForms solution features tools that you can configure to have to local weather, news and even local traffic updates delivered to the interface.