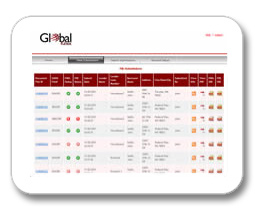 By March 19th, lenders must deliver full UAD-compliant reports and loan delivery data must be provided via the Uniform Collateral Data Portal (UCDP) for any loan originated on or after Dec. 1, 2011.
Fortunately, Global DMS has already tested and developed a GSE-certified solution for converting appraisal data to UAD (Uniform Access Data) and delivering it flawlessly to both the Freddy and Fanny versions of the Portal: Global Kinex.
Delivery to UCDP guaranteed
Global Kinex ensures that your appraisals are never rejected. The technology extracts and converts data from a PDF-formatted appraisal, converts the data into UAD format, and reviews the appraisal data for errors, inaccuracies or other violations. If there is a problem with the information entered into one of the fields, Global Kinex identifies it and alerts you immediately, providing guidance as to what needs to be entered. It can automatically send revision requests to your appraisers when needed. And it generates a score based on the review findings. Then, it submits appraisal reports to the UCDP, all in full compliance with UCDP guidelines, in just a matter of moments. The system can be set up to let you manually control each step or to function automatically. And it keeps the original PDF alongside the converted file.