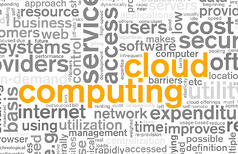 One of the newest internet-based technologies, cloud computing, makes mortgage origination and servicing easier to update, more efficient and less expensive than in the past. Users have a choice of computer platforms and applications, but they do not need to host the processing themselves. Both software and processing is deployed remotely via the Internet through a network of secure servers. Some of the advantages of cloud computing for the mortgage industry include:
No technical know-how is needed and there's no need for time-consuming, costly technology upgrades, implementations or maintenance
Cloud computing poses no financial barriers since billing can either be by subscription or usage — and it can be implemented quickly
Services can be accessed anytime, anywhere via computer, PDA, smart phone or tablet PC such as the iPad
Any of your collaborators with Internet access can share information — although proprietary data is segregated and secured. You define sharing permissions
You can continuously expand or contract usage of allocated services, generally without a pricing penalty
Global DMS clients have seen an average increase of 25% in productivity and an 85% decline in technical support for their valuation processes since implementing Global DMS's cloud-based applications. All services offered by Global DMS are cloud-based, including our appraisal management platforms, Web-based valuation forms and automated review technologies. What's more, we can tie your existing system into the platform in just one day.
Learn more about cloud computing and mortgage software.