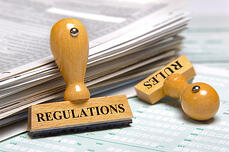 The Appraisal Foundation's Appraiser Qualifications Board (AQB) has officially adopted changes to the background check requirements of the Real Property Appraiser Qualification Criteria. According to the AQB, these new requirements are modifications to the original background check requirements that were adopted back in December of 2011, and are set to take effect on January 1, 2016.
The newly adopted background check requirements are as follows:
All applicants for a real property appraiser credential shall possess a background that would not call into question public trust.
Applicants must provide state regulatory agencies with all information and documents necessary for the jurisdiction to determine an applicant's fitness for licensure or certification.
Applicants who have been convicted of or plead guilty or no contest to a crime that would call into question the applicant's fitness for licensure would automatically be disqualified from obtaining an appraiser credential.
Thanks to these new requirements, states will now have more flexibility in how they determine whether or not an applicant has a background that would call public trust into question. They will no longer be required to perform formal background checks—which called for fingerprint submissions to the FBI—and can now satisfy the minimum AQB criteria by simply asking appraisers about their backgrounds directly.
With that said, the impact of these changes will be slow, because 42 states have already adopted background check requirements based off the old 2011 criteria. Until these particular states amend their mandates, appraisers will still be required to submit fingerprints and undergo a formal background check by the state or a federal law enforcement agency.
To see the new background check requirements in their entirety, check out the AQB's final exposure draft of proposed changes on the Appraisal Foundation's website.
Source:
The Appraisal Foundation – appraisalfoundation.com